Lyngby-Taarbæk Riding Club is a sports club located at Stenrødgaard (Stone Red Farm) in Lyngby with riding academy and stabling of privately owned horses and ponies. Besides one large and several small stables housing approx. 45 horses and ponies, our facilities include an indoor 20x40 m arena with a rider room, an indoor 20x10 m arena (the barn), an outdoor 20x60 m dressage arena, an outdoor jumping arena, a small sand paddock also used for children's classes, a walker, a lunging arena, and a number of sand and grass paddocks.
Our main objective is to offer excellent instruction in riding and horse management, while at the same time creating an enjoyable and relaxed environment for everybody at Stenrødgaard, where giving a helping hand is a natural thing.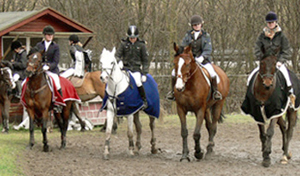 The riding academy offers lessons in dressage in the categories beginners, intermediates, and advanced. Please refer the separate schedule on daily classes. Private lessons are also possible. During classes no other riders are allowed in the arenas unless specifically agreed with the instructor.

We welcome children from the age of five. However, parental/adult involvement is necessary for young children to help groom and saddle the pony before lessons, lead the pony during lessons, until they can
ride on their own, as well as unsaddling and
grooming of the pony after lessons.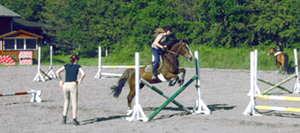 Membership of LTR is mandatory for all active riders in the riding academy as well as owners and riders of private horses/ponies stabled at Stenrødgaard.

For questions, contact daily leader Kate zum Vohrde by phone 20 82 30 60 on weekdays between 10 am and 6 pm, or by e-mail:
katezv@gmail.com.